The 2018 route is released!!!!
Written by Jason Sims
January 8, 2018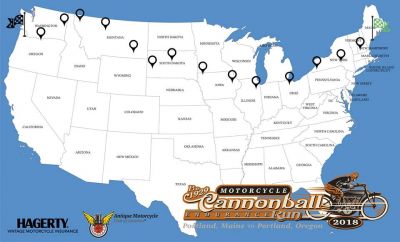 The 2018 Motorcycle Cannonball route. September 8-23, 2018 Portland to Portland

Grand Departure, September 8: Portland, ME
Stage 1, September 8: Keene, NH
Stage 2, September 9: Binghamton, NY
Stage 3, September 10: Jamestown, NY
Stage 4, September 11: Bowling Green, OH
Stage 5, September 12: Bourbonnais, IL
Stage 6, September 13: Anamosa, IA
Stage 7, September 14: Spirit Lake, IA
Stage 8, September 15: Pierre, SD
Stage 9, September 16: Sturgis, SD
Rest Day, September 17: Sturgis, SD
Stage 10, September 18: Billings, MT
Stage 11, September 19, Great Falls, MT
Stage 12, September 20, Kalispell, MT
Stage 13, Septmeber 21, Spokane Valley, WA
Stage 14, September 22, The Dalles, OR
Stage 15, September 23, Portland, OR



The Transcontinental Motorcycle Cannonball Endurance Run
Written by Felicia Morgan
January 7, 2018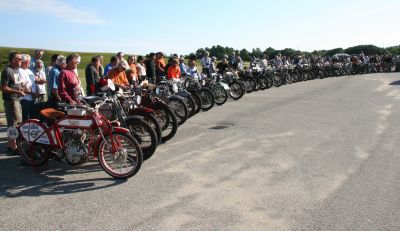 Jason Sims, owner of the Motorcycle Cannonball in Sturgis, South Dakota, has announced that the historic transcontinental event scheduled for 16 days in September has its roster full and the route is set. Though held on U.S. soil, the international line up of riders from 5 continents certainly makes the 2018 run a global event.

According to Sims, this remarkable endurance ride for pre-1929 antique motorcycles will get underway in Portland, Maine on Saturday, September 8 and will include riders from around the world. With 100 entries from 32 states and 10 countries, this extraordinary event will indeed be watched world wide as motorcyclists on all marques tackle an arduous coast-to-coast route across America. From the lighthouses of Portland, Maine to the snowcapped mountains Portland, Oregon, the entire route will include less than 10-miles of interstate roadways. A week into travel, riders will have a day of rest, repairs, and some festivities in the motorcycling mecca of Sturgis, South Dakota on September 17. After a total of some 3,649 miles, the ride is slated to conclude on Sunday, September 23 in Portland, Oregon.

During the MCR event, participants will ride vintage pre-1929 motorcycles such as Henderson, Indian, Triumph, Harley-Davidson, Norton, Excelsior, BSA, Thor and others. Among the more remarkable marques will be a Brough Superior, an Ace and an American Single. A 1926 Rudge is also expected to line up in Maine, as will a Reading Standard and an Ariel. This is the fifth biannual transcontinental Cannonball, and as with runs of the past, the event is a timed test of both the rider's endurance and the roadworthiness of their respective vintage machines as they navigate America's back roads through some of the most scenic areas of the country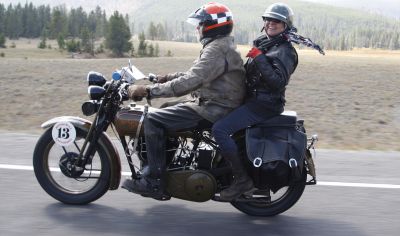 .

"This route is going to be a challenge, we've never taken such a northerly route. The terrain combined with the range in ages of the bikes is going to make for an interesting run," Sims shared. "We'll cover some of the best riding areas in the country. It's going to be a difficult trip and we'll have a lot of long days and hard riding."

Sims said that, while he and MCR Course Master John Classen are still working out the final details, it's clear that the second week of the event will be grueling as riders make their way along the Rockies and into the Pacific Northwest region. Throughout the run, according to Classen, the spectacular scenery will awe participants as they pilot their time machines along several picturesque national parks, monuments and museums.

The 2018 Motorcycle Cannonball Run's roster includes new riders from South Africa, New Zealand and England as well as returning rider Ciro Nisi from Italy, Harry Verkuil from Scotland and Juergen Ullerich from Germany. World traveling rider personality Doug Wothke is returning, as will Cris and Pat Simmons, Victor Boocock and several other United States riders. Southern California bike builder Shinya Kimura will also be at the starting line. He is the only rider who has navigated all five runs on the same 1915 Indian motorcycle. Each entrant has their own amazing story to tell and is anxious to tackle this year's route through 13 states to arrive at the Grand Finish in Portland, Oregon.