New Cannonball Products
Written by Jason Sims
August 15, 2018


Limited Edition Motorcycle Cannonball Tin Signs. We have made a run of very Limited Edition 12" x 16" 24 gauge Tin Signs for both the 2018 and 2016 events. You can order online at https://www.cannonballstore.com/collections/new-products or on the Motorcycle Cannonball Facebook store.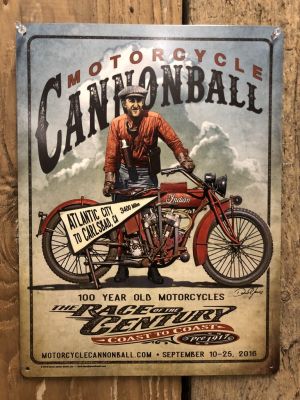 2018 Motorycle Cannonball Schedule of Events
Written by Motorcycle Cannonball Staff
August 7, 2018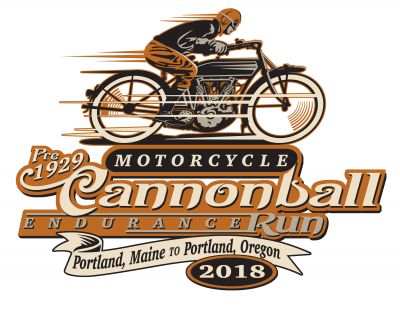 Friday, September 7 Official Start, Prologue (10 miles)
12:30 PM EDT Riders depart Portland Marriott At Sable Oaks
1:15 PM All motorcycles in place, Bug Light Park, South Portland, Maine
3:00 PM Official Start Time; Bug Light Park, South Portland, Maine
3:10 PM Photo Op, Portland Head Light, Fort Williams Park, Cape Elizabeth, Maine
3:45PM Finish; Portland Marriott at Sable Oaks, South Portland, Maine

Saturday, September 8 Stage 1 (145 miles)

9:30 AM EDT Official Start Time; Big Moose Harley-Davidson, Portland, Maine
11:15 AM Harley-Davidson Shop of Rochester, Rochester, New Hampshire
4:00 PM Finish; Best Western Plus, Keene, New Hampshire
Sunday, September 9 Stage 2 (251 miles)
7:30 AM EDT Official Start Time; Best Western Plus
9:30 AM Hemmings Motor News, Bennington, Vermont
4:45PM Finish; DoubleTree by Hilton, Binghamton, New York
Monday, September 10 Stage 3 (227 miles)
8:00 AM EDT Official Start Time; DoubleTree by Hilton
9:45 AM Finger Lakes Harley Davidson, Cayuta, New York
12:20 PM Arkport Cycles, Hornell, New York
4:45 PM Finish; Harley-Davidson of Jamestown, Jamestown, New York
Tuesday, September 11 Stage 4 (273 miles)
7:30 AM EDT Official Start Time; Holiday Inn Express
4:50 PM Finish; Buffalo Wild Wings, Bowling Green, Ohio
Wednesday, September 12 Stage 5 (260 miles)
8:00 AM EDT Official Start Time; Hampton Inn
2:30 PM EDT Kersting's Cycle Center & Museum, Winamac, Indiana
TIME ZONE CHANG
4:15 PM CDT Finish; Holiday Inn Express, Bourbonnais, Illinois
Thursday, September 13 Stage 6 (229 miles)
8:00 AM CDT Official Start Time; Holiday Inn Express
12:00 noon Workman Harley-Davidson, Rock Falls, Illinois
4:00 PM Finish; National Motorcycle Museum, Anamosa, Iowa
Friday, September 14 Stage 7 (274 miles)
7:00 AM CDT Official Start Time; Marriott Cedar Rapids
11:30 AM Harley-Davidson of Mason City, Mason City, Iowa
4:15 PM Finish; Indian Motorcycle Factory, Spirit Lake, Iowa
Saturday, September 15 Stage 8 (314 miles)
7:00 AM CDT Official Start Time; Ramada
5:00 PM Finish; Steamboat Park, Pierre, South Dakota
Sunday, September 16 Stage 9 (294 miles)
7:30 AM CDT Official Start Time; ClubHouse Hotel & Suites
TIME ZONE CHANGE
4:00 PM MDT Ceremonial Finish, Harley-Davidson Way, Sturgis, South Dakota
4:45 PM MDT Finish; Glencoe CampResort, Sturgis, South Dakota
Tuesday, September 18 Stage 10 (299 miles)
7:00 AM MDT Official Start Time; Baymont Inn & Suites
5:15 PM Finish; Beartooth Harley-Davidson, Billings, Montana
Wednesday, September 19 Stage 11 (248 miles)
8:00 AM MDT Official Start Time; Red Lion Hotel
4:10 PM Finish; Big Sky Harley-Davidson, Great Falls, Montana
Thursday, September 20 Stage 12 (242 milee)
7:30 AM MDT Official Start Time; Best Western Plus Heritage Inn
4:30 PM Finish; Red Lion Hotel, Kalispell, Montana
Friday, September 21 Stage 13 (254 miles)
8:30 AM MDT Official Start Time; Holiday Inn Express
TIME ZONE CHANGE
4:20 PM PDT Finish; Lone Wolf Harley Davidson, Spokane Valley, Washington
Saturday, September 22 Stage 14 (303 miles)
7:00 AM PDT Official Start Time; Mirabeau Park Hotel
12:30 PM Rattlesnake Mountain Harley-Davidson, Kennewick, Washington
5:00 PM Finish; Federal Street, The Dalles, Oregon
Sunday, September 23 Stage 15 (51 miles); Grand Finish
10:00 AM PDT Official Start Time; Fairfield Inn & Suites
1:30 PM Grand Finish; Skamania Lodge, Stevenson, Washington